Rebecca
Rebecca is Canadian born and raised in Alberta. Rebecca was born again and spirit-filled at the age of 17 and has dedicated her life to intentionally seeking God's plans and purpose. She is the mother of 3 and has devoted most of herself to pouring into and raising her and Roberts children. God spoke to Rebecca and Rob in June 2012 to leave their farm in Eastern Alberta and attend Charis Bible College in Colorado. So Robert and Rebecca 'pushed reset' on their life as they knew it. Rebecca completed Charis Bible College Colorado including third-year Creative Arts School where she has had the opportunity to grow in leadership skills and experience in the performing arts, as well as had the privilege to be a part of the musical and DVD 'God with Us' and other faith-based stage shows and outreach performances. Rebecca has a passion for unity knows God has called her to disciple the body of Christ and display His genuine love. God is continuing to give Rebecca a strong desire and vision for Oceania where she now resides as the Director of Charis Bible College Gold Coast.
Rebecca can be contacted at: director@charisgoldcoast.org.au.
Robert
Robert is Canadian born and raised in the rocky mountain/prairie province of Alberta. Robert grew up in a spirit-filled Christian home, giving his heart to Jesus at a very young age. He has spent his life seeking God's plans and purpose for him, focusing on his relationship with God, hearing His voice clearly and being obedient and faithful in wherever God has led him. Robert has always felt called to ministry. He is also a journeyman cabinetmaker and retired Fire Officer. Robert is married with 3 children and with his family has completed Charis Bible College Colorado including the third year ministry program. Robert knows God has called him to lead and teach in the body of Christ. He led a home church for 2 years in Colorado and also had the opportunity to lead a missions team to Uganda as well as work with teams on other global projects. Robert has had a desire for Oceania in his heart since childhood and is now blessed at this appointed time to follow God's call to reach the people of Australia and the Asia Pacific Region with God's love and grace. Robert currently resides in Gold Coast Australia as the Director of Andrew Wommack Ministries Australia.
 Robert can be contacted at: director@awmaust.net.au
Penny
Penny is a 2014, third-year graduate of Charis Bible College,
Heidelberg, South Africa. Penny came highly recommended by the Charis South African Director, Carlyn Kotze.  After visiting the Gold Coast campus, Penny was offered a position as the 1st year facilitator on the Gold Coast in Australia, which she joyfully accepted. In February 2015, Penny joined the Charis Bible College Gold Coast team. Penny has facilitated 1st and 2nd-year classes and facilitated a mission trip to Fiji.
In 2016 Penny worked at the Andrew Wommack Ministries office establishing the Human Resources department and encouraging the development of Discipleship Evangelism and Grace & Faith groups. In 2017 Penny developed the 4th Year Intern program that will enable Interns to be trained in aspects of running a Bible College. Penny currently has the role of Dean of Education and Missions Coordinator.
Penny can be contacted at: dean@charisgoldcoast.org.au.
Emma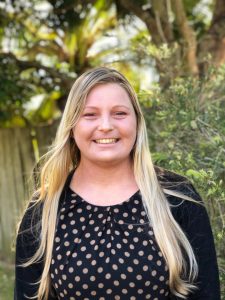 Emma grew up in a Christian household, was baptized in the Holy Spirit at the age of seven and has loved God ever since. Emma graduated from the University of Southern Queensland with a Bachelor in Biomedical Science in 2012, and started working as a pharmacy assistant. In 2014 Emma moved to the Gold Coast to attend Charis Bible College. In 2016 Emma began working for Charis Gold Coast and completed her 3rd year by November 2016. Emma currently has the role of Hybrid Coordinator and IT Coordinator.
Emma can be contacted at: info@charisgoldcoast.org.au
Ann Ann
Ann Ann was born and raised in Malaysia and received Christ while studying in New Zealand. In her younger days. she worked as a microbiologist in New Zealand, a teacher in China and a business owner in Malaysia. In 2015, Ann Ann and her husband moved to Australia where they just by chance attended a Charis Live event in the area. After hearing the speaker speak of God, grace and faith in a way she had never heard before, she started listening to Andrew Wommack materials online and in May 2016 started Charis Distance Learning. In 2018, both she and her husband came on-campus to complete their second year of Charis. Ann Ann is currently serving on the administrative team of Charis Gold Coast while completing her third year of Charis through the Hybrid Program, and she continues to discover and walk out the purpose God has for her in her life. Ann Ann currently has the role of Registrar and Manager of Student Services.
Ann Ann can be contacted at: registrar@charisgoldcoast.org.au